About the Blízká project
Comfort and satisfaction starts with choosing the right location to meet all your expectations and requirements. The Blízká residence with apartments for lease offers delightful living in the increasingly popular district of Karlín. Karlín typically consists partly of original houses with a history of several decades, or even centuries, and partly of modern buildings, which began to concentrate the settlement of this district only during the last twenty years. Thanks to this unique architectural cocktail, today's Karlín has a specific atmosphere and is unquestionably a thriving neighbourhood. With their brick facade, the buildings of the Blízká development respect the surrounding original development and fit in perfectly. The residence thus combines the emphasis on functionality and comfort of living with the continuity and distinctiveness of Karlín.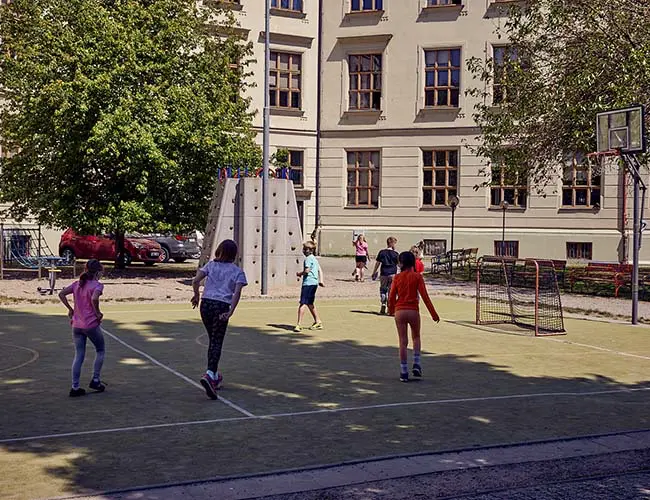 Civic amenities nearby
In Karlín, everyday duties and worries can be handled comfortably, with a smile and joy. Children have their nursery and primary schools literally around the corner, and the supply of shops and services is endless. The House of Children and Youth 'Karlínské Spektrum' (Dům dětí a mládeže Karlínské Spektrum) offers leisure clubs, courses and other activities both for children and adults. Regular markets are held in Karlínské náměstí (Karlín square) and it is also a venue for many cultural events. Believers find refuge in the Roman Catholic Church of St. Cyril and Methodius, one of the largest ecclesiastical buildings of the 19 th century in the Czech Republic.
Parks, gastronomy and culture within easy reach
Karlín pampers its inhabitants, offering them an array of quality restaurants, cafés, sports and cultural facilities literally every step of their way. Prague citizens come here for delicacies of both Czech and world cuisine, delicious coffee, homemade pastries and, of course, for cultural events, be it theatre, film, music or fine art. Dog walkers and families with children will find peace in the local greenery, athletes will welcome bike trails, golf courses, a disc golf park, skate park and other local multifunctional grounds.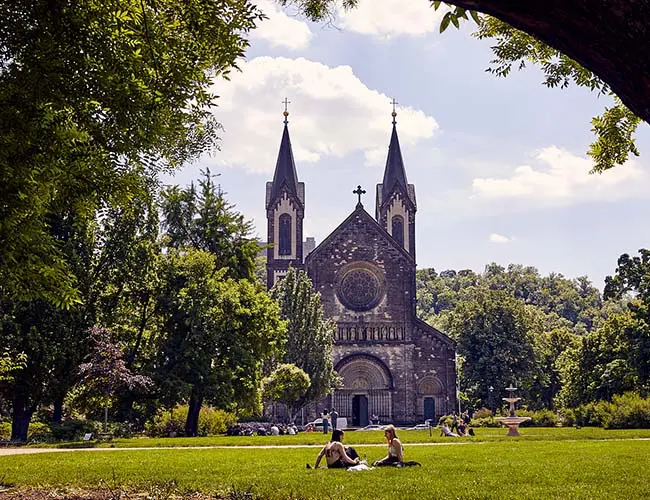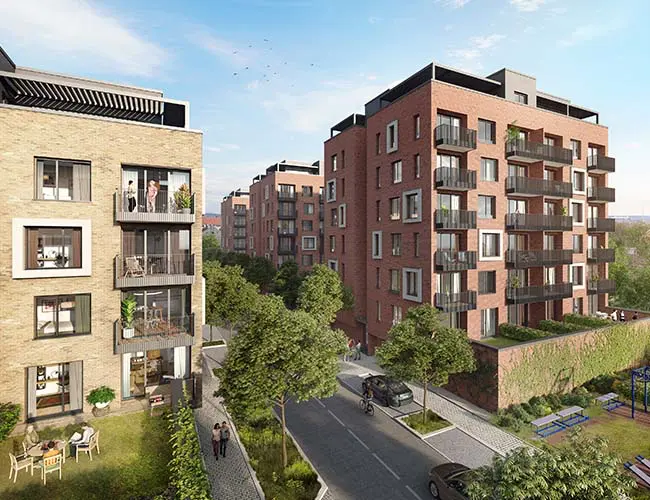 Comfortable living
Healthy living always includes the opportunity to breathe some fresh air. Therefore, each apartment includes a balcony, ground-floor flats have their own front garden, and the top floors can enjoy a spacious terrace. It is nearly time to start planning your barbecue party or your gardening activities. To ensure that every resident has enough space, the residence has a total of only 228 apartments.
Home in the neighbourhood of Vítkov
As a natural landmark, the Vítkov Hill rises above the Blízká residence. The National Monument and its adjacent park have become a popular destination for relaxation and educational walks or for biking and inline skating. The monument to Jan Žižka from Trocnov is among the largest equestrian statues in the world, offering a dazzling sight of Prague from its strategic location. Equally interesting is the view of this monument from a distance of only a few steps, especially when lit up after dark. Of course, the functionalist building of the national monument at the top of the hill is also worth visiting, including refreshments in the local café.